It's time! It's time!
I have a release date.
I have a blurb.
I have a cover.
I have an excerpt.
Release date for If I Could Stay: February 22nd.
The blurb:
They killed her mother, and if they find her, Leila could be next. Being pursued from one state to another, she has learned to constantly look over her shoulder, and when necessary, to become someone new. She's burned through four cities and four identities, always managing to stay one step ahead.
Now Leila is left with nothing. No car, no money, and no choice but to trust the man who finds her, half frozen, wandering the back roads of Missouri.
Despite the fact that Jack seems to genuinely care about her, Leila knows all too well the danger she poses to anyone brave enough to get close to her. Her growing feelings for Jack force her to make a choice. She could risk staying and hope she's not found, or she could do what she's always done, and disappear.
*~*~*~*~*~*~*~*~*~*~*~*~*~*~*~*~*~*~*~*~*~*~*~*~*~*~*~*~*~*~*~*~*~*~*~*~*~*~*~*~*
My cover!
*~*~*~*~*~*~*~*~*~*~*~*~*~*~*~*~*~*~*~*~*~*~*~*~*~*~*~*~*~*~*~*~*~*~*~*~*~*~*~*~*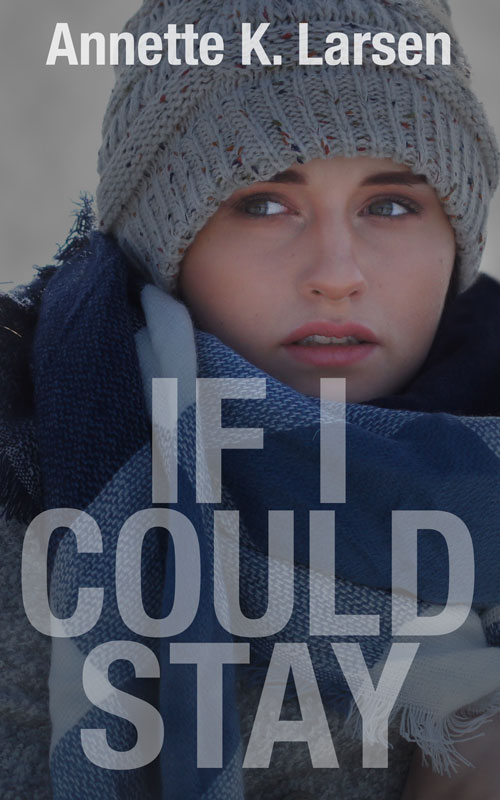 A little different from my other covers, huh? As well it should be! This is a new genre for me, and that deserves a spicy new cover style.
Excerpt:
I don't know how long we sat in that pickup truck, two strangers wrapped around each other. One desperate for help, the other willing to give it without a thought for himself. But it was long enough that my shaking stopped, and my breathing slowed, and I started to feel very, very tired.
"You falling asleep on me?" he asked.
"Maybe," I whispered.
"So you can talk."
I cleared my throat and took a deep breath, realizing for the first time how good he smelled. "Yeah. I can talk."
"You got a name?"
Hmm. I hadn't decided on a new name yet. Now was as good a time as any. "Celeste." It came out sounding like a question.
"You sure?"
I let out a little chuckle. "No, I'm not sure. What do you think my name should be?" I was feeling a little bit floaty, safe, like everything was suddenly fine.
He grunted. "Angel seems appropriate."
My brow furrowed in confusion. I wasn't an angel. I might not have been sure of much right then, but I did know that. "Why?" I asked as I was finally able to unlock my arms and wrap them around him.
"That's what you looked like, standing in the middle of the road. Your hair looked like it was glowing. Though that might have been frost."
I was guessing my white blouse, beige pants, blonde hair and pale skin all added to the image.
He cleared his throat. "Wow, that sounded cheesy. I swear I'm not trying to hit on you."
I smiled, knowing that was true. "What's your name?"
"Jack."
"Nice to meet you, Jack. I'm pretty sure you saved my life."
~*~*~*~*~*~*~*~*~*~*~*~*~*~*~*~*~*~*~*~*~*~*~*~*~*~*~*~*~*~*~*~*~*~*~*~*~*~*~*~*
Go ahead and add it to your Goodreads shelf.

And follow my author profile on amazon to get notifications when new books are release.

There is also a cover reveal giveaway that you can enter over on I Am A Reader. So hop on over if you're interest.