Hey Everyone!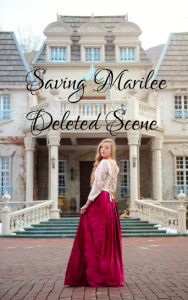 I've got a deleted scene from Saving Marilee for you to read. And as a bonus, everyone who signs up in the next week will be entered into a drawing automatically.
How to enter: Go HERE and sign up for my free content. Not only can you find all my bonus scenes there, but you'll also be notified when I add NEW bonus content.
What do you get: Firstly, you'll get access to all my bonus scenes, including a new scene with Marilee and much of her family. You can get a glimpse of Lylin and Rhys, Ella and Gavin and others. You'll ALSO be entered into a drawing.
What's the prize for the drawing? If your name is selected, you'll get a signed paperback of whichever of my books you choose. Or I'm happy to send you the ebook if that's your preference.
Drawing ends Tuesday June 30, 11:59 pm.
Be sure to tell your friends, share it on Facebook or tweet about it. Happy Reading!