As always, getting a cover put together for my newest book has been an adventure! At the beginning of January, my husband mentioned that he wanted to go watch our nephew in his wrestling state championship down in Salt Lake. I realized that it would be a great excuse for me to put together a photoshoot down there. My sister, Jennifer, is a superb photographer (Fauset Photography) and lives down that way.
So we put up a casting call and I got to look through pictures of a bunch of lovely women with fabulous long blonde hair and found a model who was perfect.
Then, the hunt for a dress was on. Once again, I relied on the wonderful ladies at In Retrospect in downtown Boise. I couldn't resist trying on this hat while I was there. I'm ready for tea with the queen.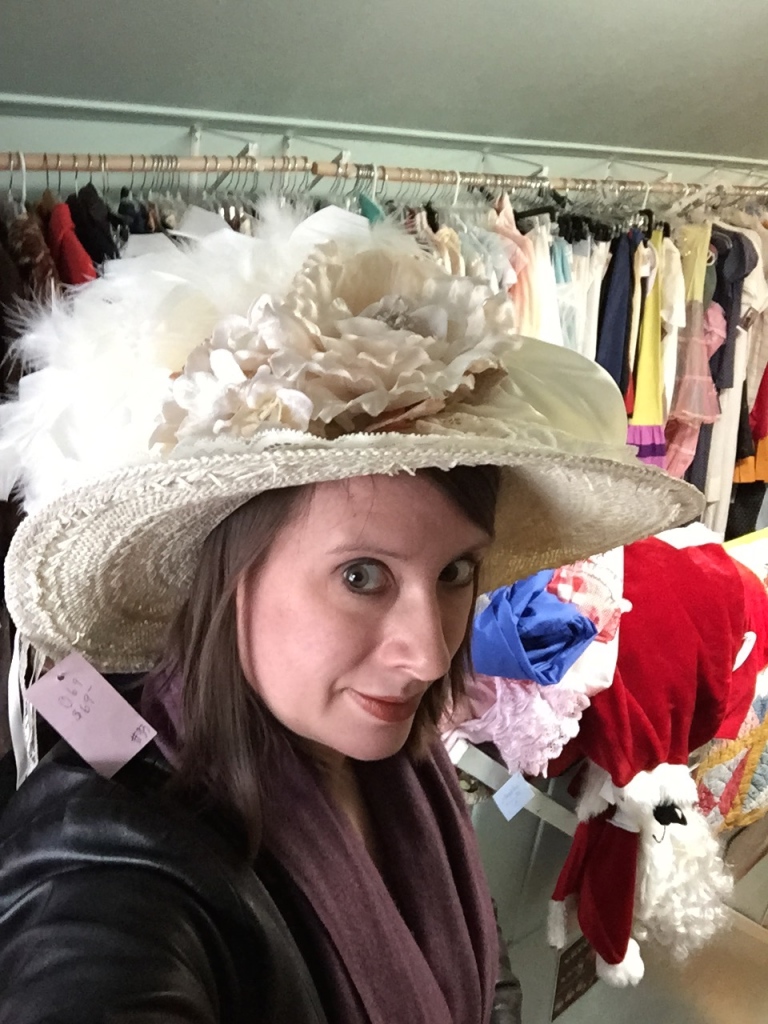 I found two dresses that I thought would work and arranged to rent them.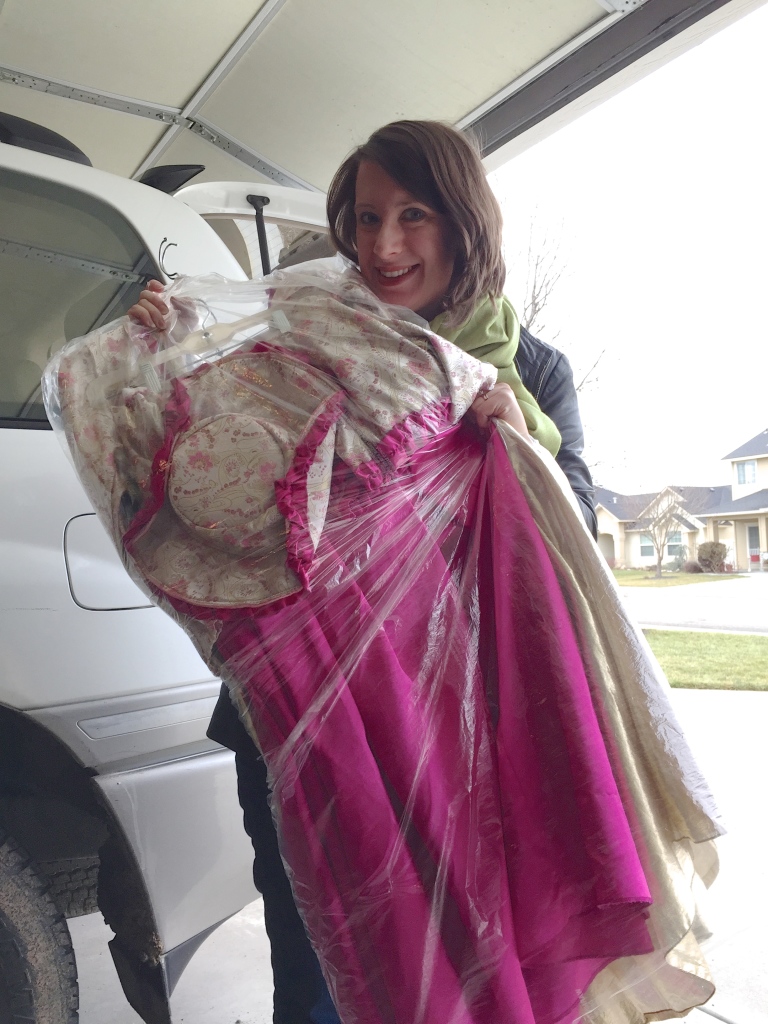 The next day, I went to the fabric store. Both dresses had skirts that would have fit my height (5'3″), but my model is 5′ 7″. So I whipped up a couple of new skirts (not gonna lie, I'm really proud of those skirts) and had everything squared away for the wardrobe.
And then there was the location. Oh gracious, the location. I had looked for a venue in the Boise area, but couldn't find anything that I thought would work, which is another reason I decided to drive the five hours with my four children to take a picture. I scoured wedding reception venues in and around Salt Lake for hours, looking through photos and trying to find something that would fit my vision. I had a couple of options that looked like they could work, but then I ran across photos from La Caille. It's a restaurant in Sandy with pretty extensive grounds. Once I saw pictures from an interior photoshoot, I was sold. I booked it about two minutes later.
Now, I chose La Caille because of a very specific room that I had seen pictures of, but just before we arrived, my sister called to inform me that that room no longer existed.
What?
Turns out, this room was part of a house that is on the grounds, but it isn't part of the main restaurant. The house is now being lived in, and the rooms are being renovated. I was so sad, but still hopeful. We arrived and I looked around and decided that there were plenty of places that we could make work.
So Jennifer and I and my wonderful model and her mother went to the bride's room and I handed over the first dress, praying it would fit her. And hallelujah, it did. It was perfect on her.
So, the shooting began. And let's just say, I was not disappointed.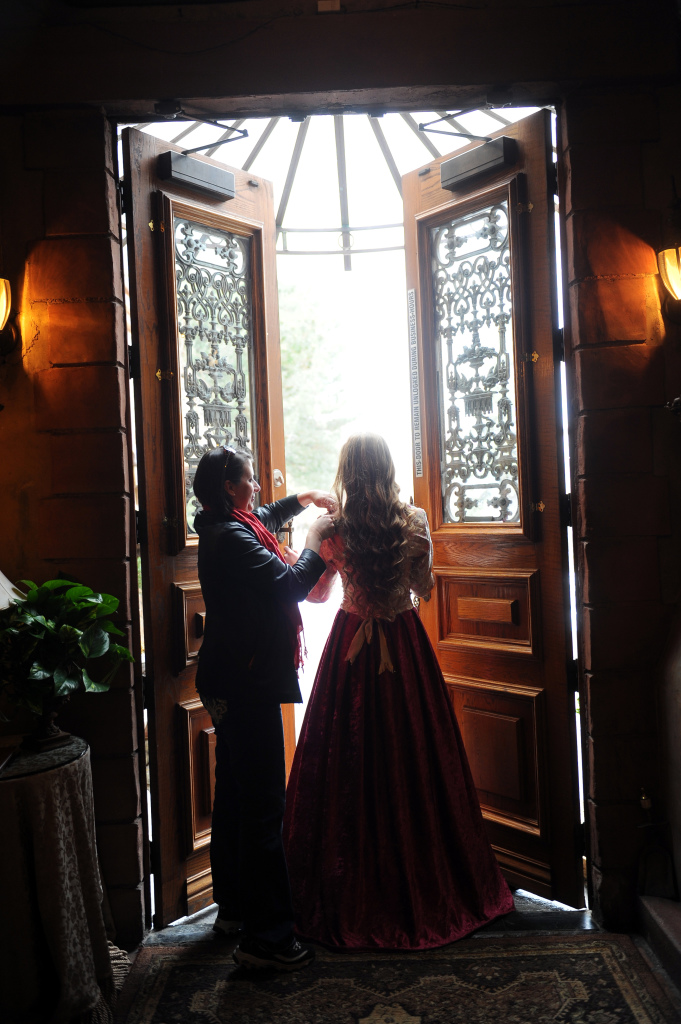 I won't show you the photo I picked for the cover yet, but we had so much fun. Mckaiden was wonderful to work with and her mom was a huge help. It was a great experience.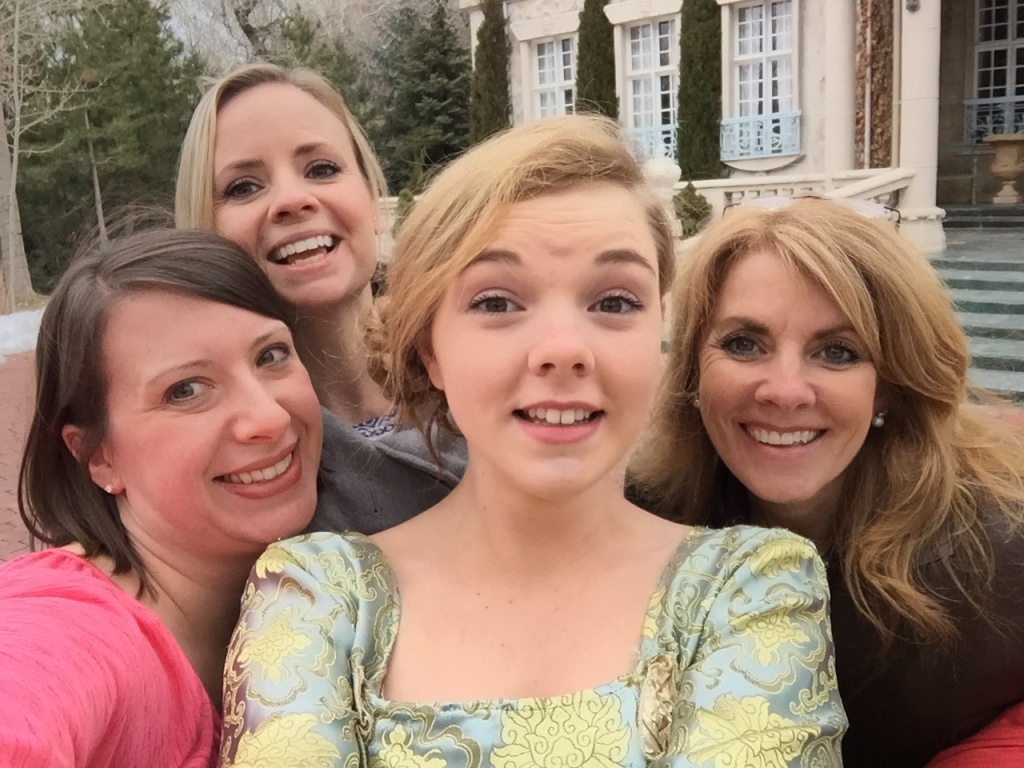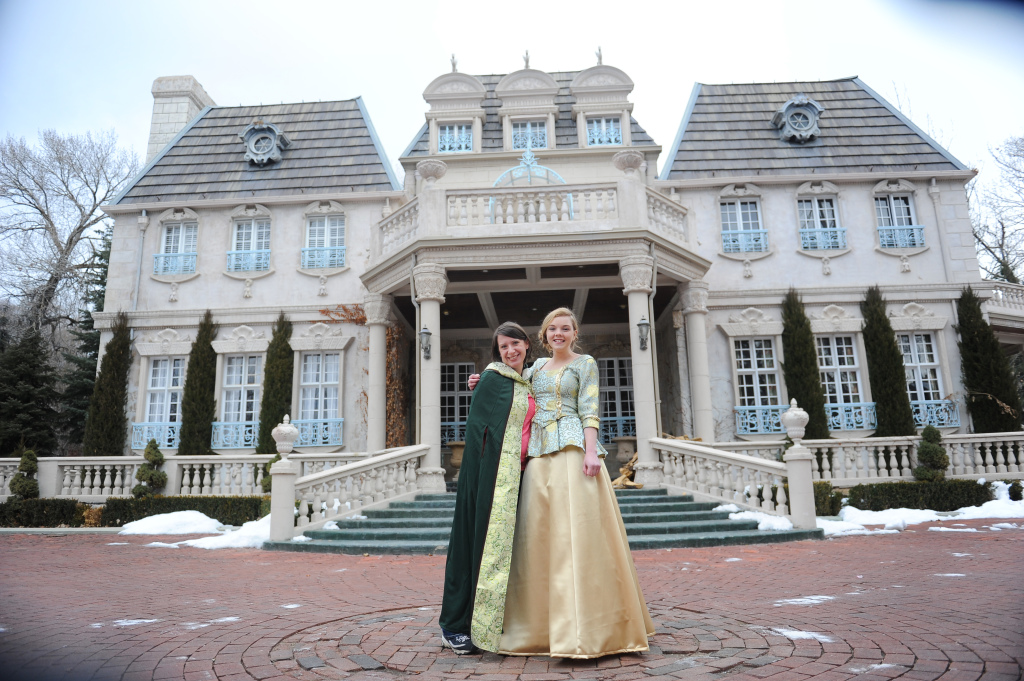 I had to throw on the cape to fit in with the decor. 🙂
I'm excited to do a cover reveal later on because I'm so happy with how it turned out. I had a great time sitting beside my hubby while he tweaked and fixed and adjusted, turning a gorgeous image into a gorgeous cover.