The KindleScout campaign for Keeping Kinley has officially ended. Thank you so, so much to everyone who nominated it! Whether it's chosen or not, it's been a great experience. I hope you all enjoyed reading the first couple of chapters and I'm excited to get the rest of the story into your hands.
As I was going through my manuscript (yet again) and looking over different files, I found a prologue that I toyed with using. In the end I decided it was unnecessary (as most prologues are) and it went into my 'deleted' folder. However, I thought it would be fun to share it with y'all, because I do like how it turned out.
The Prologue that Wasn't:
I told myself I wouldn't look, but some self destructive tendency drove me to part the curtains. He was returning from a carriage ride. With her. She was dressed in her finery, the picture of innocence and ladylike decorum. He smiled at her.
I loved that smile.
It shouldn't have hurt. The crushing disappointment shouldn't have had the power to knock the wind out of me. But he had made me believe in him, in us.
Even so, I was practical enough that I should have expected this outcome. The world was always going to come between us. The truth of who he was, and who I was. The truth that had forced me to walk away from him—again. Yet this was so much worse than when I had left him the first time, when we were children, and the only thing we had to lose was friendship.
Fun, huh?
I also wanted to share my print cover. As always, the handsome man that I call my own helped me with it. Or…I helped him with it. We collaborated, there you go. I especially love the apple watermark that he made for me.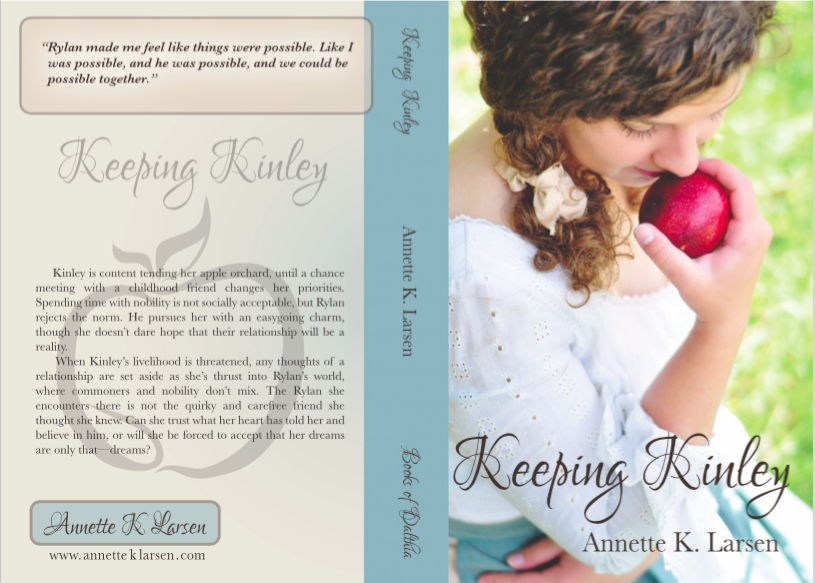 I ordered the paperback proof several days ago, and I'm so excited for it to arrive. That's still my favorite part of this whole process—getting to hold the physical book in my hands for the first time. There's nothing quite like testing the weight and flipping the pages, knowing that I wrote all that.
So now I'll sit back and wait to hear from the KindleScout people, and in the meantime I'll proof my paperback so that it will be ready to go as soon as either KindleScout or I publish the ebook.
ONWARD!