As I set the Songs for Libby launch aside for a bit, I managed to record a video for my YouTube channel yesterday. I haven't done that since COVID came on the scene. The video isn't long, and there wasn't much postproduction required for it, but I barely managed to finish it in the 2+ hours when all my kids were in school.
I want my videos to look nice. Of course I do. But to get all the lighting and sound dialed in, as well as a pretty background, it takes some finagling.
Let me demonstrate. This is the background that you see in the video I just published: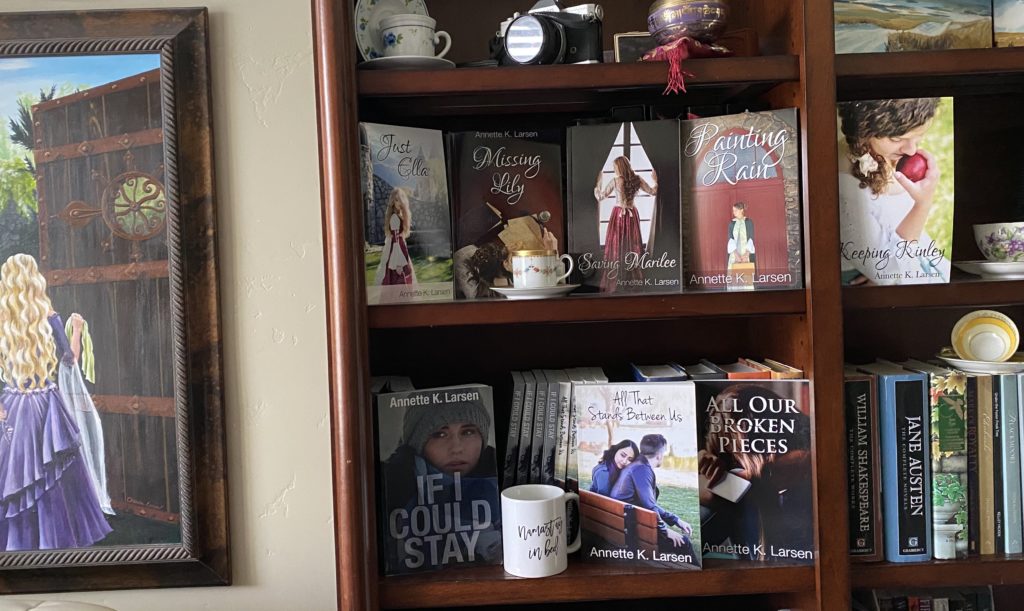 Then I zoomed out a bit. You can see my lighting rig (called a ring) and you get a glimpse of my microphone hiding behind it.
Zoom out more and it starts to get really *lovely. 🙂 You can see the lower shelves that I didn't bother to make pretty because they weren't in the shot, as well as the huge stack of book balanced on top of a side table. I used this to perch my laptop on it, so that I could check my notes while I recorded.
And so that you can better see my microphone—as well as truly appreciate how impressive my book stack was:
Soon out a little more and you see the entire office. The trash can. The random junk sitting around. It's all very glamorous. And I'm a little surprised that there are no dolls laying around. One point for me!
If you'd like to appreciate all my hard work, you should go check out the video!
And if you'd really like to appreciate my REALLY hard work, this is your reminder to please go pre-order Songs for Libby so that it will be auto-delivered to your Kindle when it releases on October 15th.
Book Highlights
You guys, I ended up picking up this book even though I hadn't read this author before, and it is So Stinkin' CUTE! I haven't quite finished, but I've really loved it so far. It's a regency inspired by twelfth night, which means a girl masquerading as a boy and falling for the man she's helping who thinks she's a man. Gah! It's so cute.
True of Heart by Martha Keyes: