I have been a major slacker lately about updating my website. Sorry about that. I have a new deleted scene to share with y'all, but first I'll give you an update on my current project.
The book that I am working on right now, which will likely be titled If I Could Stay, has been sent off to a few beta readers, and I'm waiting for feedback and fine-tuning. I'm optimistic  that I'll be able to put it up for pre-order in about a month or so.
What's this book about? Good question, and one that I'm excited to answer! This will be my first contemporary novel. Not only that, but it's also a romantic suspense (emphasis on romantic, of course). Leila is my main character, but that's not the name she goes by. She's had many names because she's in hiding. She trusts no-one, but when she finds herself stranded on a deserted highway in the middle of winter, she has to trust the guy that comes along to help her.
That's all I'll say for now, or at least until I get a blurb written (my least favorite part of writing, BTW). But I love these characters and it was a lot of fun to be able to infuse my writing with more modern humor.
Just a heads up: There's a bit of swearing in this book. Hopefully that won't discourage you from reading it. It's mild and infrequent, but I felt it was necessary at certain moments to keep it realistic.
Now, for some bonus content! Those of you who've signed up for my newsletter will have received the email and the link to this new deleted scene from Keeping Kinley.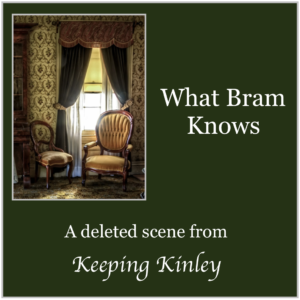 Those who haven't signed up: you should! All it does is guarantee that you get my latest updates, and it gives you access to deleted scenes, scenes from my heroes' points of view, etc… So sign up here if you want more Ella, Lylin, Marilee, Raina or Kinley!